It all started with tolerance. The Netherlands is widely known all over the world as one of the most tolerant countries. Amsterdam's weed culture started during the 1960s when the hippie lifestyle was blooming (flower power!) all around the world. Such a lifestyle had a massive effect on the Netherlands, and drug use was on the rise. In those days Vondelpark was one of the main spots where hippies used to meet up and smoke. Wernard Bruining founded the first unofficial coffeeshop called 'Mellow Yellow' (unfortunately now closed) in 1972, known at the time as a tea house. There were no advertisements that this place was selling weed; from outside, it looked like an ordinary tea house. Eventually, it was unavoidable not to know what was happening. Many of the smokers in the city used to gather there to buy the products.
The first coffeeshop in Amsterdam
The original shop stayed open for several years and set a standard for the coffeeshop culture and shops to come. Unfortunately, the original Mellow Yellow building was destroyed in a fire in 1978, but it soon reopened at a new location on Vijzelstraat. The original owner later left for America and returned in 1985 to open Positronics, the first grow shop in Europe. 
It wasn't until 1976 that the first steps were taken to legalize cannabis. At this time, the coffeeshops were still illegal, but regardless they continued to grow and there were many now opening up around the city. It wasn't until 1980 that the tolerance policy existed, which meant coffeeshops could operate without any interference from the authorities – as long as there were no hard drugs on the premises. 
But what is the essence of Amsterdam coffeeshops, you may ask? For a first-timer, the word coffeeshop most likely will associate with a nice cappuccino and a slice of cake. The reality is not so different. You need to add weed to the menu and expect your cake to be called with a space prefix. The menu in the coffeeshops is always informative with a description of the products and desired effect achievement indicator. If you want to know more, ask the staff, which usually is very friendly and knowledgeable.
The opening times of Amsterdam's coffeeshops are different. Most of them open at 08:00 am and close at 01:00 am the latest, as per the Dutch law. There are around 200 coffeeshops in the city, and this is around one-third of the coffeeshops you can find in the Netherlands. 
Our top suggestions
Our hotel is located in the pulsing vein of Amsterdam's nightlife – Rembrandtplein. It is your starting point to all the main attractions and restaurants, BUT first of all the most popular and cool coffeeshops in the city. We have gathered a list of 5 of the most famous and unique coffeeshops in the city!
Boerejongens
(100 m away)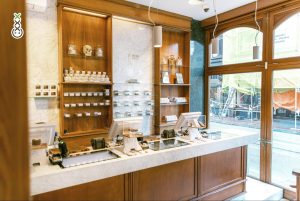 If you are looking for quality, then Boerejongens ("Farm boys" in English), is the coffeeshop for you. Located just a few steps away from the hotel, they are all about the quality, which is probably the reason they were voted the number 1 coffeeshop at the Zamnesia "Best Coffeeshop Awards" last year. 
Visiting them becomes an adventure of sophistication and knowledge of an upscale establishment. The interior gives you the mixed impression of a pharmacy/jewellery store – with a spotless counter, products presented in glass boxes and staff wearing white gloves.
They praise themselves on providing the best quality product on the market. They are honest. Outside their door there is always a line of people waiting to buy their products. The Boerejongens staff is proud of their products. Just tell them what you want, and they will attend to your needs – even a fussy customer will leave satisfied.
Their unique approach to their product makes them stand out and create a memorable experience for the clients. Apart from a great variety of strains like Super Silver Haze, Banana Candy Cush, they also offer delicious spacestry (der. from pastry) – brownies, space cakes (Red velvet cake is a must!) and cookies. Boerejongens have three other locations in Amsterdam. 
Opening Hours:
Daily 09:00 – 00:45
Smokey
( 50m away)
Just a stone's throw away from our hotel you can find Smokey, located in Rembrandtplein 24. It is a large venue with 150 seats. Not your typical intimate coffeeshop ambience, it is always busy and if you feel like socializing, Smokey is the right place. Guests choose Smokey for the energizing atmosphere and extensive selection of cannabis.
It is run by the people who own the nightclub with the same name next door. The exterior of Smokey is hard to miss – with its neon palm lights and loud tunes. Inside the coffeeshop, you can enjoy delicious fresh juices, ice coffees, special marijuana teas and milkshakes while playing pool. Their food menu is very appealing (brownies, muffins, grilled cheese sandwiches and nacho's), especially for the late-night hunger cravings. 
The "special" menu here is a vast glass sheet with the products and prices below so you can get a look at what you are buying. Service is friendly and approachable. 
Opening Hours:
Daily: 10:00-01:00
Barney's Lounge
https://www.barneysamsterdam.com/lounge
(200m away)
Barney's started when two non-Dutch speakers realized that Amsterdam severely lacked in hot and hearty meals. There were an abundance of toasties and uninspiring coffee with very cold customer service. The owners decided to change that, by realizing the potential and growth of a coffeeshop, and purchased their first café in the heart of Amsterdam in 1986. The place became famous for its wide variety of meal options, especially their breakfasts, which are still a staple part of Barney's Coffeeshop to this day!
In 1992, the business was sold to Derry Brett. This was a crucial moment in Barney's history, which gave birth to the present day Barney's. Derry managed to combine a brilliant quality menu with high quality herbal strains, creating the Barney's that we've all come to know and love. Nowadays, Barney's is the winner of multiple "High Times Cup" and a must-visit destination for locals and tourists alike. 
For a more relaxed and chilled atmosphere, head to Barney's Lounge. It is situated along one of the most beautiful canals right off the Rembrandtplein in Reguliersgracht 27 – 5 minutes away from the City Hotel. This place has a laid back style and is a bit more intimate than the original Barney's.
For their guests, they provide free vaporizers, a comfortable interior and an extensive menu of different strains, space cakes and cookies. Their most praised products are Tangerine Dream, Cookies Kush and Caramella Cream and the well-informed staff will always recommend something that will suit your taste. 
Opening Hours:
Daily 09:30 – 1:00
The Bulldog Palace
https://www.thebulldog.com/the-bulldog-palace/
(1,1 km away)
Possibly the most well-known coffeeshop in Amsterdam, Bulldog earned its reputation for a great atmosphere, informative staff and quality strains. They have a chain of shops spread throughout Amsterdam and are always quite busy.
The closest one to our hotel is located on Leidseplein 15 in a building that ironically used to be a police station. They provide top-notch service, free Wi-Fi and a great seating area outside in the warmer months.
Opening Hours:
Mo, Tu, Wed – 10:00-1:00
Thu 10:00- 2:00
Fri-Sat 10:00- 3:00
Sun 10:00 – 2:00
Original Dampkring
http://dampkring-coffeeshop-amsterdam.nl/the-best-coffeeshop-in-amsterdam/
(550m away)
This coffeeshop has been open since 1993 and they offer a great selection of hash and cannabis, as well as drinks. The interior is quite spacious and relaxed, and the price range is definitely on the affordable side. However, Original Dampkring is a popular destination not only for the strains and space cakes, but also because a scene in the famous "Ocean's 12" was filmed there.
Opening Hours:
Daily 10:00 – 1:00
———-
Things to keep in mind
There are specific rules in Amsterdam coffeeshops:
You must be 18 or older (21 years old in some places) and always have your ID with you.

You are allowed to visit the same coffeeshop a maximum of twice a day.

You can buy a maximum of 5 grams per day.

Alcohol and cigarettes are forbidden in the coffeeshops.

You must not cause any trouble.

The use of hard drugs is strictly forbidden.
To date, Amsterdam has around 250 coffeeshops, and most of them are located in the Red Light District. From psychedelic to hipster-ish, from very local ones to more touristic places – the choice is always yours. Each of Amsterdam's coffeeshops has its own unique atmosphere, and anyone will  find one that suits them perfectly.
Disclaimer: In this article, we are not encouraging drug use in any shape or form. Smoking weed and coffeeshops is a part of Dutch history that we are sharing and insight into the local lifestyle for all those who are interested.